CYCW Instructor Shares Success Secrets
October 19th, 2021 / By Eastern College
Corey Hunter is an accomplished Child and Youth Care Worker (CYCW) professional and an instructor in the Child and Youth Care with Addictions Support Worker Program at Eastern College – New Brunswick. From a young age, she knew she wanted to make a difference by helping others which led her to study psychology at Mount Saint Allison University.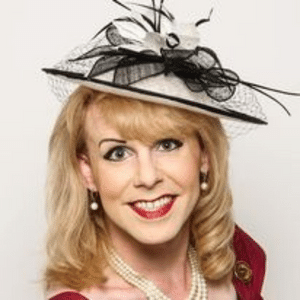 Before stepping into her current role, she explored the realms of the care field by taking on different job positions from entry-level to management and continuously pursuing more knowledge. Outside of Eastern College, Corey is an activist, a motivational speaker, and is certified to instruct several professional trainings. Corey's passion for the field and her wealth of experience are evident through her teaching and her ties to the wider community.
In this interview, Corey shares her backstory with us, where we learn how she got her start in the field and what drives her passion for care.
1. How did you get into the field?
When I was growing up, I always wanted to be a teacher. I ended going in a lot of different directions before I started teaching. I ended up studying Psychology at Mount Allison University. While my grandmother was in a nursing home and required some very unique approaches to help keep her well and help her have the quality of life that she deserved, I started becoming aware of a lot of things in our healthcare system that I didn't know about before. As interested as I was in teaching, I also became very interested in people and unique ways to help them, and different ways of approaching them, and patient-centered care plans.
2. What was your first job like?
I found myself working in an entry-level position in a group home in Moncton. It was a very low-paying job, but it was the best experience I could have asked for. I received a lot of extramural training, a lot of opportunities to take different certifications and to receive different continuing education. That made a difference for me. Within several months I was able to get a job in a unionized nursing home that was very largely based. I worked as a Personal Support Worker for several years and then I started working with one-on-one complex cases. I was there for several years before I left. Just starting in that position, I was making almost double what I was making in my initial starting field.
After being there for quite a while I decided that I was looking for a new challenge. I found a business where I really admired the values, the direction, and some of the changes that they were making. I decided to apply for an entry-level position in Halifax. After about 10 1o 11 months of working in that position doing direct care support, direct care planning, and things like this within the field, I was encouraged to apply for a management role. That's when I transferred up to Fredericton to their head office for their district. I started overseeing 10 or 11 group homes for very unique and special-cased youth and young adults. Some of those individuals there had been remanded there into custody, some had very complex developmental and cognitive delays, some people were there because of a home breaking down because of trauma, and the foster care not providing all the unique care components they required. It was a very dynamic, great job, it was a chance to learn so much and just be able to do so much for different people. From there, I ended up coming to Eastern college and started to teach the Child and Youth program while I continued to work in the field.
3. What is your favourite part of the field?
My favourite part of the field is the people. And I believe that goes hand in hand with our approach. In our field, we get to meet all sorts of unique people with strengths and with challenges. A lot of other people out there only see the challenges, but in our field with our scope and the way that we practice we see things very differently. We go in and recognize that challenges and problems are not synonymous with the person. There are things that the person has an interaction with that they can change with our support. We don't go in and just see the negative things. We actually look for the strengths, we look for the positives in that in that person's life because we can use those as tools to support and empower them. I would have to say the best thing about our field is the people and the lens I'm able to meet them through because I get to see people in a different perspective than most.
4. How is a CYCW different than a Health Services Counsellor or Community Services Worker?
There are two really big things that set us apart from everybody. One of them is the fact that we're always looking for the why. I like to say that we live in the grey. Things are not black and white for us. We're always looking to understand how things are connected and how they impact one another to better understand things. The other thing that I think really makes us stand apart is the fact that we use what is called a relational care approach and we're often working in what we call 'the life-space'. We have a relationship that we build with our clients. It's all about trust, it's all about bond. It's always about us being there for them, to support them without expecting things in return.
It's about everything we do being person-centered for the person we're supporting. When I tell a story about my background or an experience, it's not because I feel like telling a story, it's because there's something I have here that I think this person can learn from or benefit from. A lot of what we do is relationship-based. We're in their home, their school, their community with them, we're not in an artificially created care setting or in an office debriefing about an incident that happened last week. We're there with them when the incident happens, we're helping them to work through it in real-time and they're able to trust us and they're able to work with us because of that relationship that we built. They know we're not here to judge and that everything's not black and white, we're here to understand and support and live in that grey with them.
5. Is there advancement in the field?
Absolutely! In this field you can do so many things, especially in New Brunswick. I've seen people go to other provinces and also have lots of opportunities. I had some students find a position right out of college that is their happy dream job right away. They're able to get into that EA position at a school, they're able to get into autism interventions, they're able to get into a number of different places and they're happy. I also have people out there who are looking to make a career, one of my graduates for example went to work for a private company and within 3-4 months they were given an opportunity to be promoted into a supervisory role. Supervisor roles go into management roles and so on and so forth if you have the right qualifications, skill sets, and personality. A lot of businesses look to promote from within so if there's an opportunity seize it, it will be there for you it just depends on what you want to make out of your career.
6. What is it like teaching in the digital world?
I honestly thought it would be a lot different than it actually is. The thing that I've learned that is so different is just the tools that we use. I aim very much to have my classroom still be interactive and feel like a class: we introduce ourselves; we talk to one other, we use the hands' up function, my students are on camera, we use the chat and put messages in. I've learned how to use Canva as an interactive tool so that we can all go on to the same website while we are screen sharing and we create things together interactively from our home. Once we have the right tools our classroom can still be a classroom. At first, I was resistant because I worried that I was going to lose that connection with my students and I was going to lose that ability to build a working relationship – I might use that relational care in my teaching a little bit. But it hasn't impacted it, it was just a case of getting the new tools and understanding how to employ them. Once I got past that scary part and I realized that I can do this and I've got a great team that's supporting me to do this it hasn't been a challenge.
7. Do you have any specialized training or certifications?
I've been really big on continuing education. I've taken PLAR (Prior Learning Assessment & Recognition) course for CCA, I've taken dementia care courses, palliative care courses, cancer care treatment courses. I've taken a lot of extramural training with different nurses to provide different frontline care for different roles I've been in as well. In addition to that, I've taken every opportunity I can to attend things and to go to trainings. I've been NVCI (Nonviolent Crisis Intervention® Training) certified for several years and recently I've was able to become an NVCI Instructor. I travel around to all of our campuses in Eastern College and do all of our NVCI certifications for the different programs. I've done other sorts of certificates too like Trauma Informed Care (TIC) and my ASIST, which is a suicide prevention program.
8. What type of person should study CYCW?
People, people. People who like to help, people who like to care, people who want to give back. It's not an easy program but it's something that is so rewarding, and you get so much out of it. You just get so much out of it personally and professionally, it gives you an opportunity to grow, it gives you an opportunity to learn, and the more you learn, and you grow yourself the better you are prepared to help others. This is a helping field, and when you come in and have that dedicated mind it's not as burdensome, it's a lot more manageable. You need to be compassionate; you need to be caring, open-minded, and willing to grow because we're going to put different ideas and perspectives out there and we want people to come in and be open-minded and receptive to them.
9. What makes the program at Eastern College stand out?
The dedication of our faulty, I work with an incredible faculty in the CYC program. I have not met an instructor who I don't get along with, that I can't work well with, that doesn't go above and beyond for their students. The other thing that really makes our program stand out is the fact that it builds and is practically based. We learn about concepts and theories then we put them into practice to see what it looks like in real life. It's interactive, it's not just sitting and talking at a lecture. It has an addictions component on the end, a specialty that talks about case management and about different approaches and treatment approaches. It is so valuable to us especially when we start recognizing how likely is that individuals dealing with mental health are also battling with substances. Having that specialty makes us better prepared to help people who may have those challenges. It is a solution-focused program. It is a trauma-informed program. It is looking to build and support, and it's taking that kind of approach with our students in the classroom and also with our clients out in the field.
10. How are you involved in the field outside of teaching?
One thing that we are very lucky to do in the CYCW program is that we work with our placements. I'm able to maintain connections within the field, I'm able to provide volunteer and practicum opportunities for my students. I get to go out and see them on-site, I get to network with their supervisors. It's wonderful to get to go and see their skills in action, to get to model my own skills in action for them.
In addition to that, I'm an advocate and I have been one for a long time since I was a teenager. I've been doing public speaking for about 16 years. I have a website that I've been working at building with some of my students as volunteers. I usually do a number of tours around different schools and have conversations on the LGBTQ+ community, I especially talk about transgender concerns and issues there with bullying, discrimination, and harassment. Outside of that I also sit on the board of the Directors for the Sexual Health Centre of Nova Scotia as well as the Sexual Health Centre of Cumberland County. I take opportunities to be involved, I go to church, I meet people in my community, I go to functions, I like to connect still. Every once in a while, I have a business that has asked me to come in and speak with a client or talk to a youth, work with a specific situation or give a consultation. I still do some of those when I'm available.
Connection and trust are key components to working as a Child and Youth Care Worker. If you are someone who is curious, patient, passionate about helping others, and loves a challenge you may be the right fit for this field. The Child and Youth Care With Addictions Supporter Worker diploma program prepares students to work in a variety of settings with young people and their families, helping them to build skills, problem-solve and make the right decisions. CYCWs can work in a variety of settings including, but not limited to schools, residential programs, Children's Aid societies, and non-profit businesses. Learn more about the Child and Youth Care With Addictions Support Worker program here:Child And Youth Care With Addictions Support Worker