What Does a Veterinary Assistant Do?
January 30th, 2023
Our furry friends will need medical attention from time to time. Whether it's for their annual checkup or an age-related illness – a vet visit is inevitable. More people are adopting pets for companionship and emotional support and are seeing their pets as family members. Pet parents are heavily invested in the care and well-being of their pets. This has significantly increased the demand for grooming, pet related products and services and veterinary care. The pet industry is a multi-billion dollar industry and is expected to continue growing year over year.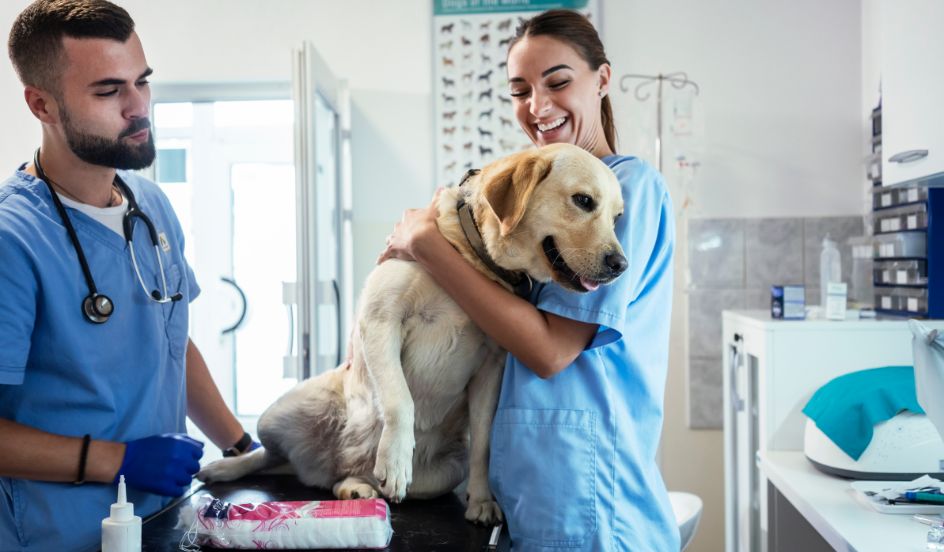 Veterinarians need help with day-to day tasks which include examinations, grooming, feeding, and monitoring of patients. Some vet assistants work with domestic animals, while others work with cattle, horses, and other livestock. In this article we will look at the skills and responsibilities of a vet assistant.
Difference Between a Veterinary Assistant and a Veterinary Technician
The main difference between the two professions is the level of education and responsibilities. Veterinary technicians have a more expanded scope of practice and can perform more advanced medical procedures such as taking x-rays, drawing blood and assisting in surgical operations.
Vet Assistant Job Description
Vet assistants can work in clinics, animal hospitals, animal shelters and livestock companies. A typical day in the life of a veterinary assistant involves the following tasks:
Sterilizing and maintaining treatment areas and equipment
Holding animals during exams and vaccinations
Providing instruments to the veterinarian during procedures
Monitoring vital signs such as temperature, heart rate and respiration
Collecting  laboratory samples
Recording relevant information about animals, including weight and types of medication given
Scheduling appointments for exams and procedures
Responsible for maintaining client files
Monitoring patients after surgeries or other procedures
Educating clients about their pet's vaccinations, nutrition, and preventative care
To be successful in the role, veterinary assistants should possess various skills. You should have strong communications skills and you should be able to work effectively in a team environment and communicate effectively with pet owners, veterinarians and the animals that come in for a visit. As a vet assistant you will be required to accurately note and maintain patient records which means having strong attention to detail. To be a great vet assistant you should have compassion for animals and the emotional maturity of working with sick and injured patients.
Veterinary Assistant Career Growth
There are exciting growth opportunities for vet assistants and some potential career paths include:

1. Veterinary Technician: The most common career path for vet assistants is to pursue further education and training to become a veterinary technician. This increases your scope of practice and the ability to preform more advanced duties such as nursing care.
2. Animal Clinic Manager: This role involves managing the overall operations of the clinic, including financial management, human resources, and marketing. Vet assistants may require business and management-related courses to be successful in this position
3. Specialization: Vet assistants have opportunities to specialize in a certain area of veterinary medicine such as emergency animal care clinics, surgery, or dentistry.
4. Lead Veterinary Assistant: Vet assistant can take leadership roles in larger clinics with opportunities to become a lead veterinary assistant. This involves supervising other veterinary assistants and training new staff.
How Much Does a Vet Assistant Make a Year?
A vet assistant salary depends on the province where you work, your experience, and qualifications. According to job bank Canada, the median salary for a vet assistant in Nova Scotia is $17.50/hour and the high is $24.50/hour. In New Brunswick, the median salary is $16.50/hour and the high is $24.00/hour.
How Do I Become a Vet Assistant?
Caring for sick and abused animals provides immense emotional and professional satisfaction. If you love animals and enjoy time around them, then working as a vet assistant might seem like a natural choice.
Eastern College's Veterinary Assistant diploma program prepares you for a career in healthcare by giving you the knowledge and skills you need to confidently take on responsibilities as the field and technologies are constantly evolving. In the vet assistant course you'll learn concepts such as veterinary medicine, breeds of cats and dogs, the behaviour associated with the various breeds, body language, and animal nutrition and much more.
Learn more about our Veterinarian Administrative Assistant program in Nova Scotia and Veterinarian Assistant program in New Brunswick.