Difference Between Occupational Therapy and Physiotherapy
March 1st, 2022
At some point in our lives, we have all heard the terms physiotherapy or occupational therapy, and some of us may have undergone the treatment too. If faced with an injury, illness, or surgery, your doctor may suggest rehabilitative care, which can involve physiotherapy (also known as physical therapy), occupational therapy (OT), or both. The difference between the two is not always clear. While both have their similarities, there are key things that set them apart.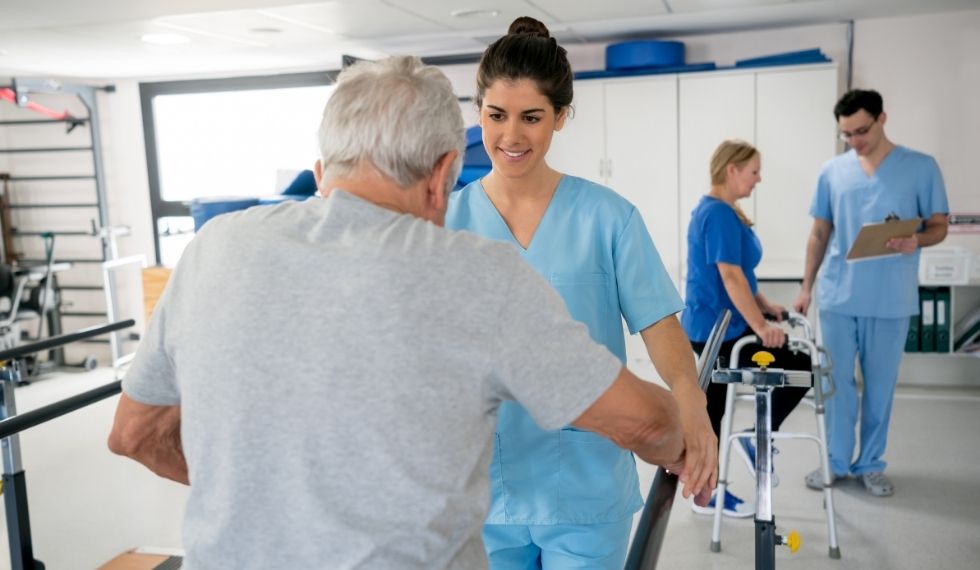 Physiotherapy is a form of health care that can help people with many health conditions.
Physiotherapy is different from OT as it focuses on movement and functional ability rather than the person's life and how it's been affected by the disability, injury, or illness. OT focuses on helping people gain independence in physical, cognitive, and motor skills, so they can carry out meaningful activities.
This article will dive deeper into the differences and similarities between the two treatments and what a career in this field can look like.
What Does a Physiotherapist Do?
Physiotherapy therapy is a health care service assisting people to restore and maintain function, movement, strength, and overall well-being. It most commonly addresses gross motor activities, focusing on flexibility, balance, mobility, and recovery. Physiotherapy can help with staying active, pain reduction, and treating and preventing injury. Physiotherapists typically work in hospitals, wellness centers, nursing homes and sports and fitness facilities.
Since physiotherapy deals with different health issues, there are also many types of treatments related to all age groups.
The main types of physiotherapy therapy include but are not limited to;
Musculoskeletal Physiotherapy: treatment of any ailments related to bones, joints, ligaments, tendons, and muscles
Pediatric Physiotherapy: focuses on helping children with balance, mobility, flexibility, coordination and more
Geriatric Physiotherapy: covers a range of issues concerning people as they go through normal aging. It includes treatments to improve mobility and alleviate pain
Neurological Physiotherapy: helps in dealing with conditions related to the nervous system
Sports Physiotherapy: treats and prevents injuries related to sports and exercise
Female-centric Physiotherapy helps in providing pre-natal and post-natal care and fertility issues in women.
What Does an Occupational Therapist Do?

Occupational therapy is a type of healthcare that treats people that have difficulty doing things important to them. The focus is on movement and coordination and improving gross and fine motor skills for everyday tasks. Occupational Therapists (also referred to as OTs) work on balance, hand-eye coordination and strengthening the neural pathways through repetition and practice.  A person's ability to carry out everyday tasks can be affected by a medical condition, mental health disorder or physical disability. OTs work closely with an individual to help them develop new skills and learn new ways to adapt to their environment.
OTs work with people of all ages and all abilities. They can work in a range of settings including hospitals, long-term care facilities, mental health centers, schools, old-age homes, home care, disability prevention/management centers, and more.
OT-related tasks involve but are not limited to:
Working with children and teachers in a classroom to help children develop skills such as handwriting and scissor skill practice
Assisting children and adults carry out self-care tasks independently including bathing, getting dressed, eating and grooming
Working on daily productive activities such as driving, taking public transportation, grocery shopping, cooking, and cleaning
Training individuals and their caregivers to use special equipment such as wheelchairs, walkers and bathroom safety device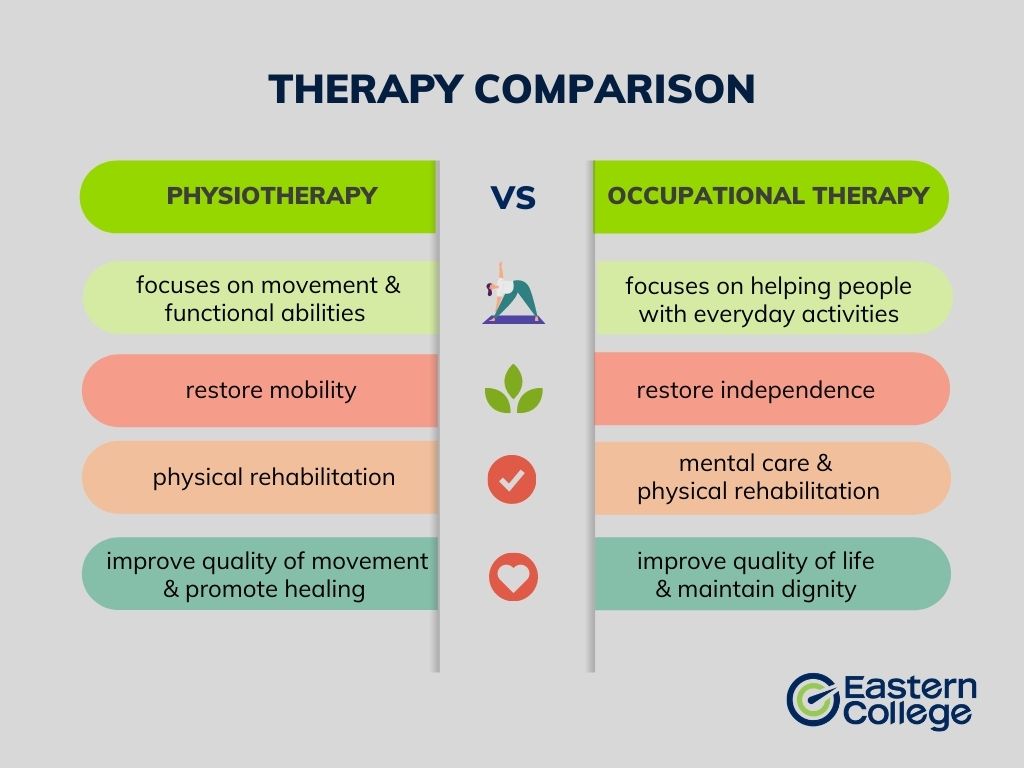 Occupational Therapy & Physiotherapist Assistant Salary
How much you make as an OT and physiotherapist assistant is dependent on three main factors. The province you work in and the demand for the position. The type of facility you are working for and the funding available to those facilities for example schools, hospitals, nursing homes and government organizations. Finally, how specialized you are in a particular job function. The more specialized you are, the chances of earning more also increase.
Canadian occupational therapists and physiotherapist assistants usually earn anywhere between $22.81 and $32.13 according to Job Bank Canada. In Nova Scotia, the median and high wage is $24 to $25/hour and in New Brunswick, it's $21 to $25/hour.
Physiotherapy and Occupational Therapy Assistant Course
There are some areas where you will see overlap between the two treatments. Neither one is better than the other as they have different goals and perform different services. If you are looking for a dynamic and rewarding health care career – physiotherapist and occupational therapy assistant jobs are a great place to start! Every day you will help people improve their quality of life, maintain their independence and live with dignity.
Visit Eastern College's Occupational Therapy and Physiotherapy Assistant (OTPA) Program to learn more.