How Do Online College Classes Work?
October 29th, 2021 / By Eastern College
It may seem like it, but online classes are not a new invention. In fact, online education has been popular across the world for many years. We are only now hearing more about online learning as an option because of the effects of the global COVID-19 pandemic. Because of the way the pandemic suddenly hit, no one was prepared. Many businesses had to quickly pivot, figuring out different ways to provide their services. With many countries continuing to observe protective measures and social distancing being encouraged, online learning is definitely here to stay.
If you are someone who is considering a post-secondary education in these times, you may wonder how online college classes work, and there is no definitive answer. Your experience will depend on your instructor and your willingness to adapt to the virtual setting. Online learning is for students who are self-starters and enjoy working independently, but what is online learning anyway? Typically, online classes are a combination of live lectures and video recordings supported by course readings and assignments. To determine if online classes are for you, you'll have to consider your lifestyle and what type of learner you are.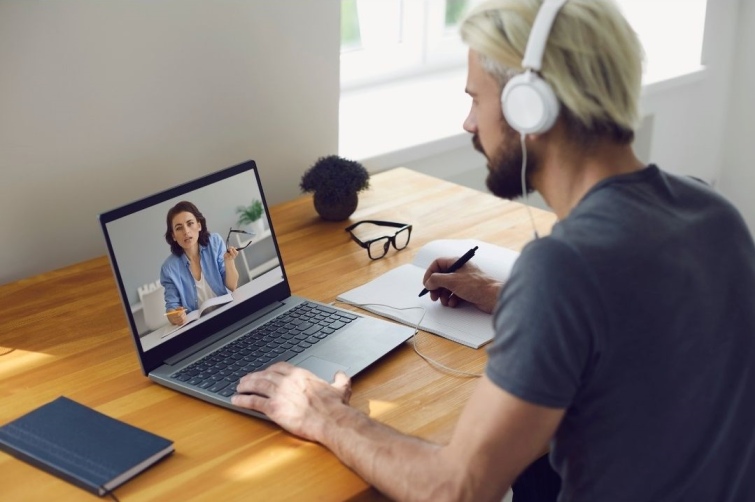 Online classes combine live lectures and video recordings supported by course readings and assignments.
Can you take online college classes while in high school?
Taking online courses in high school is a great way to embrace the digitization of the world. As more familiar products and services begin to shift to online operation, it's not hard to imagine that schools may as well, even after the pandemic. Currently, in New Brunswick, any student can consider distance learning. The student would have to meet with their high school guidance counselor and parent or guardian to determine a good education plan for success. If a high school student decides they enjoy online learning and have an interest in post-secondary education, they can look into dual credit programs. These types of programs are partnerships between post-secondary institutions and high schools, which allow students to earn high school and college credits simultaneously. In a dual-credit program, the online college course would be taken for free as a part of the agreement. This route allows students to complete their studies sooner while saving money in the process.
In addition to saving money, there are many other benefits to learning online in high school. A great benefit is having the ability to try college-level courses earlier. If you are someone who has taken online classes in high school, then you may already be familiar with some of the formats. This will really help in higher education. Taking a college-level course gives you the ability to experience the workload of a college course earlier. Therefore, you'll know what to expect. Early exposure to online classes gives you a sense of the college lecture environment and provides the opportunity to interact with college instructors and any professional speakers that may come to class.
Are online classes harder in college?
 Online classes can seem frustrating to figure out for some. But once you get used to them, they are really like any regular lesson. As a student, you are expected to participate just like you would in an in-person setting. Students are required to log into an LMS (Learning Management System) to participate in the course. Some classes may have a set schedule of required lectures via video, where students are required to sign in on time and be present for attendance. Some courses may take the form of a 'live classroom', where the instructor interacts with the students in real-time.
Brian Naicker, Senior Director – Online Education at Eastern College, maintains that online and flexible modes of learning will form a significant part of all learning in the future.
"Much of the last two years has seen online and flexible learning acceleration borne of out necessity, but this will become entrenched in the future as institutions serve up choices of learning modalities. These are exciting times for teaching and learning as course delivery is reimagined, time and space barriers are broken down and reconceptualized"
Online learning instructors try their best to simulate the in-person experience with their students. Students will still have group projects and may be required to do presentations. Homework, quizzes, readings, and exams are still part of the experience. The important thing to remember about online classes is that they require the same skill level as an in-person learning experience. On the other side of the spectrum, there are online classes that are independent studies. In these types of classes, the student logs into the LMS and completes the readings, tests, and assignments on their own according to the course outline. Online classes should not be thought of as easy, rather they are a dynamic, new way of learning that requires your full attention. With that being said, courses will naturally become more challenging as individuals seek out higher education, but it's nothing you can't handle.
Because the online class environment seeks to be as similar to an in-person classroom as possible, the rest of the institution will follow suit. If you need any additional supports, they will still be available for you as if you were walking around on a physical campus. Students can still have access to their instructor during virtual office hours and can receive student supports such as tutoring. Students can also still interact with other facets of college life such as making an appointment with the financial aid department or signing up for fun virtual events.  
Are online college classes better?
Whether or not online classes are better really depends on the person studying. Online classes do have many benefits for those who are living a busier lifestyle and may have to care for children and family at home.
Online education is convenient because it doesn't really affect the lifestyle of most individuals. When you're studying online, you can forget about the stress commuting can sometimes bring. When you commute to a school for your classes, there are several factors to consider before leaving your home. You may have to put gas in your car, leave earlier to deal with traffic, bring or buy meals, and of course deal with unexpected occurrences in life. Your babysitter could cancel at the last minute, and you would have to miss a day of class. Learning from home simplifies things as you will have everything you need right at your fingertips. Online classes provide students with the flexibility to keep on living their lifestyles. If you are a highly organized individual who doesn't have trouble adhering to deadlines, then you may find that you now have extra time. You can use this time to take up different hobbies and interests or simply spend more time with your loved ones.  The main benefit a lot of students will notice is financial savings. With less commuting, purchasing of snacks, and many textbooks shifting to online options, you may notice that you have a little more money to spend (or save).
Tips for Success
There is no set way as to how online classes work. Your experience will depend on how your instructor delivers the materials and how you interact with them. Here are some little tips to help you stay on track.
Make sure you have a reliable internet connection.
Don't work from your bedroom.
Do take lunchtime and breaks.
Make sure to get fresh air.
Interact with your classmates.
Reach out to your instructor if you need help.
Create `work' and `rest' hours for yourself.
To be successful in your online classes you'll have to stay organized and be adaptable. It will be an adjustment if you never learned this way before, but it is possible. Because of the online class environment, it may be a bit more difficult to make connections and friendships, but don't be discouraged. Make the effort to message friends you've made in class or suggest group activities that can be done in an online setting. If you feel confident enough to take the next steps, you can go ahead and apply for online college classes.
At Eastern College, we have a track record for quality online education and a variety of programs to consider. If you are looking for online classes, we currently have a mixture of diploma programs and online certifications meant to provide prospective students with the skills they need to be job-ready and qualified for the workforce.
Check out our Online Learning page to discover more about the programs we offer!