Medical Administrative Specialist vs. Medical Assistant
April 25th, 2022
There are some similarities between a Medical Administrative Specialist and a Medical Assistant. While in some places such as the United States, Medical Assistants can combine administrative duties with assisting medical staff when conducting patient care, Medical Administrative Specialists function as highly trained administrative professionals in Canada. They focus on ensuring an organized and efficient medical office.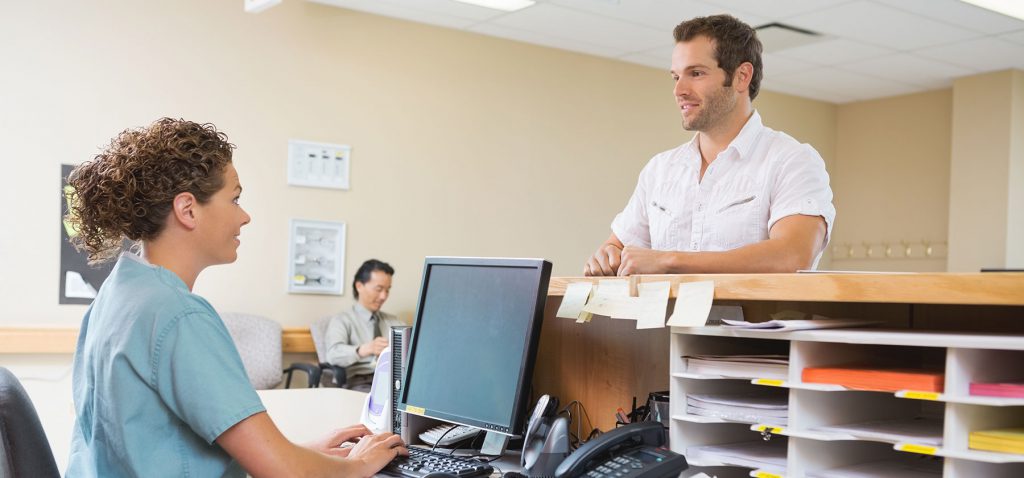 Medical Administrative Specialists ensure the smooth operation of a medical office.
What is a Medical Administrative Specialist?
A Medical Administrative Specialist is an administrative professional that works in a medical office setting and carries out administrative duties to make sure the office runs smoothly. They plan an important role in ensuring that their clinic or healthcare setting is organized and functional. Medical Administrative Specialists are also one of the first people you see when you walk into a medical office and are tasked with communicating with patients and scheduling appointments.
What Does a Medical Administrative Specialist Do?
A Medical Administrative Specialist takes on a number of duties within a medical office. They are responsible for scheduling and confirming medical appointments and receiving and communicating messages for medical staff and patients. As they are the face of the medical office, strong communication skills are important because they need to effectively communicate information to patients and medical staff. Communication skills are also necessary because Medical Administrative Specialists interview patients so that they can complete forms, documents, and case histories. A Medical Administrative Specialist needs to have good attention to detail as they are called upon to accurately complete insurance and other claim forms and to prepare financial statements and billing. They can also be tasked with ordering supplies to maintain inventory, so strong organizational skills are also needed. Document tracking, filing, and preparing monthly reports are also a Medical Administrative Specialist's duties, so they also have to have good time management skills.
Where Can a Medical Administrative Specialist Work?
With their specialized administrative training, Medical Administrative Specialists can work in any medical office setting. Medical Administrative Specialist jobs can be in doctor's offices, hospitals, and medical clinics. According to the Government of Canada's Job Bank, they have good job prospects in the Maritimes, meaning there is plenty of room for growth in their careers in whatever medical office setting they choose to work in.
Medical Administrative Specialist Salary
A Medical Administrative Specialist's salary varies depending on the province they work in. Across Canada, the average salary is $21.55/hour, with more experienced workers earning $28.89/hour. In the Maritimes, the average salary is $21.93/hour, which is slightly higher than the national average.
How Do I Become a Medical Administrative Specialist?
To become a Medical Administrative Specialist, you need to complete a college diploma. This provides you with the skills needed to excel in the role. In addition, you'll also learn key terminology, so that you can communicate more effectively with patients and other medical staff.
Eastern College's Medical Administrative Specialist program prepares you for a career in healthcare by giving you the knowledge and hands-on skills you need. Over the course of 53 weeks, you'll learn concepts such as Bookkeeping Fundamentals, Office Skills, Anatomy and Terminology, and Business Math, so that you can become an in-demand administrative professional. With an 8-week internship, you'll also gain the practical and hands-on experience that employers want.
If you're interested in building your administrative skills and becoming the face of a medical office, learn more about our Medical Administrative Specialist program and how you can be on the road to a fast-paced career in healthcare.