Meet Your Instructors – Jason Eckert
February 9th, 2023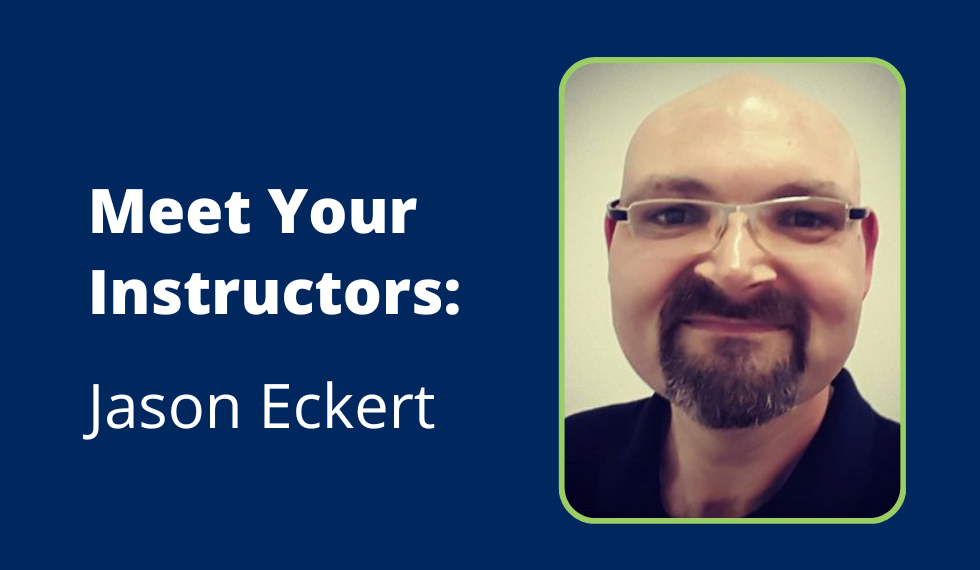 At Eastern College, we're lucky to have such knowledgeable, dedicated, and supportive instructors who play a role in each students' journey. Jason W. Eckert, an instructor in our Information Technology (IT) program, recently shared his experience, his thoughts on the technology industry, and his time at Eastern.
Jason has taught technology courses for 24 years, including several courses to corporate clients. According to Jason, the key to success in teaching for two decades is in keeping his industry skills current. Since beginning his teaching career, Jason has taken on at least one extracurricular project per year outside of his comfort zone within the IT industry – from working with Canada's SHARCnet supercomputer, to designing and developing microservices, to architecting large cloud systems and software development workflows. Some of his work has even made its way to Mars via the MER project at NASA.
As part of the Advanced Placement program in high school, Jason started taking university courses during high school, and received several software development placements at large tech companies, including Microsoft and Sun Microsystems.
In addition to teaching college IT classes, he led IT train-the-trainer sessions at the Kitchener campus for other faculty members, taught UNIX and programming courses to corporate clients through triOS' corporate division, designed a GAME ON 2.0 exhibit for the Ontario Science Centre, as well as organized over a dozen sponsored hackathons and game jams for developer students. Jason continues to train and mentor instructors in his industry. He was named 2019 Outstanding Train-the-Trainer from the Computing Technology Industry Association (CompTIA) – an award that was granted from the votes of 2700 peer instructors worldwide. CompTIA provides most of the industry certifications that are part of our IT programs and used as a benchmark for hiring in the industry.
In 2001, he started writing his first textbook for Cengage (then called Course Technology) on the Linux operating system. It became an overnight success in the academic market and led to 25 other IT book projects covering topics such as UNIX, Linux, and Windows Server. He's currently finishing up the 6th edition of his first Linux book for Cengage.
In the classroom, Jason enjoys guiding students through the configuration of different technologies in a very practical, hands-on manner that builds the resourcefulness and IT mindset that allows students to succeed in the industry.
"The most important quality of any IT professional is resourcefulness. There are thousands of different technologies that you'll have to implement, support, and troubleshoot. A solid foundation in core IT concepts, alongside the ability to effectively research IT topics will allow you to configure software properly and solve problems quickly." says Jason. "Nothing in the IT world is difficult if you approach it the right way."
Some of his proudest moments come when he sees students apply what they've learned in the industry, no matter what area of the industry they choose. He prides himself on being a mentor to his students and setting them up for success, often going beyond sharing his knowledge in the classroom and helping students prepare for the job market by coaching them as much as he can.
"IT is one of the most diverse industries in the world. Seeing students pursue the part of the industry that they are the most passionate about is one of the best parts of my job", says Jason.
Outside of the classroom, Jason keeps busy with a number of hobbies. In addition to collecting and restoring vintage computers and arcade games, he spends a lot of time trail hiking all over Ontario.
He sees the future of the IT industry as one focused on automation, cloud computing, and cybersecurity. In Jason's opinion, the industry shift to these areas has been accelerating over the past decade and will continue to become the target areas for IT professionals for the next decade or longer. After all, with his hand in bleeding-edge industry projects each year, Jason sees the industry trends as they happen. And he works to incorporate those into the programs at the college.