My instructor was so welcoming and knowledgeable. You just knew if you needed any help, she would be there for you – Allyson's story
October 27th, 2022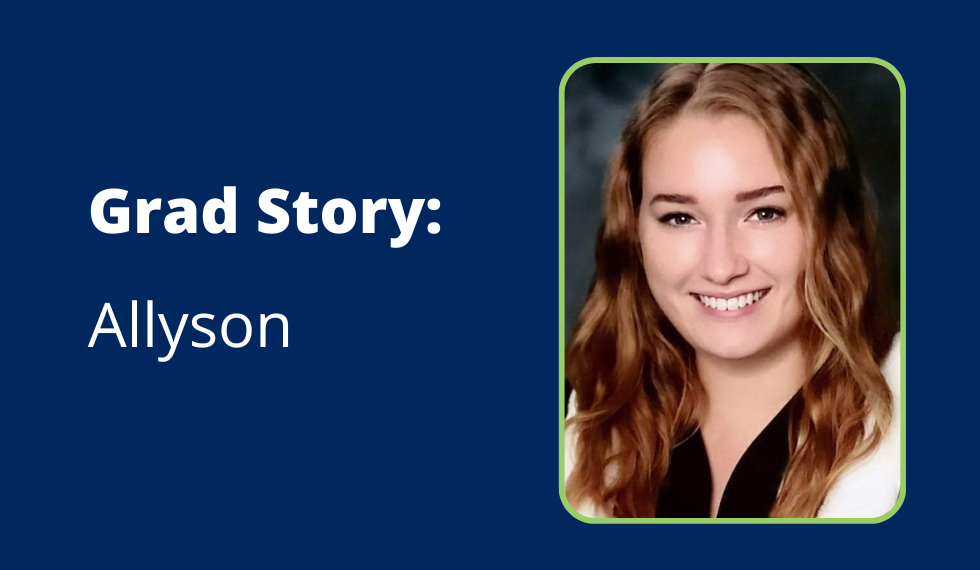 Growing up, Allyson was very involved in athletics; she was the co-captain of her soccer team in high school, played basketball, ran track and cross country, and spent time horseback riding. Wanting a career in healthcare, she graduated with a degree in Kinesiology from the University of New Brunswick, but knew she wanted to further her education after graduation. Allyson always had a keen interest in science and how the body works, and an injured knee in Grade 11 led her to see an Athletic Therapist where she thought about becoming a physiotherapist. After some thought, she realized that she wanted to be more hands on, less focused on the gym aspect of physiotherapy, instead focusing more on the hands on approach to the client's rehab.
"I love my kinesiology degree, but it's more exercise based and working within the gym, and I wanted a more hands on approach. Massage seemed like the perfect fit where I could do both."
Wanting to stay close to home, she came across Eastern College's Massage Therapy program. The content of the program and the clinical hours appealed to Allyson, as she had the chance to gain meaningful hands-on experience and apply her knowledge from the classroom. In the classroom, she found an incredibly supportive and welcoming atmosphere, and developed strong friendships with others in her class who are all committed to the success of one another.
Allyson also felt that the community at Eastern College felt more personal than at UNB, and that she was not just a number, but a member of a community. Her instructor made herself accessible at all times, and made her feel confident and prepared when they began their hands-on clinical experience. The in-class practical's also helped her gain confidence in her skills, as she regularly received feedback and was able to keep improving.
"From the moment you walk into the building, you are greeted by the loveliest people. The admin staff was always so happy to see you, and the massage instructors were always there to help you be the best you could be. Within the classroom, my instructor was so welcoming, and knowledgeable. You just knew if you needed any help, she would be there for you.  My classmates and I all became such close friends, even through online learning in the beginning. We were all very supportive towards one another and helped each other succeed."
She completed her clinical experience at the campus massage clinic, where she was able to apply her skills on a diverse range of clients. Working alongside other students and receiving support from a number of instructors, she had the opportunity to see a number of different conditions and learn how to modify her approach to best assist clients.
Allyson graduated as Valedictorian and became licensed on October 17th 2022, and is working in administrative support at a multidisciplinary clinic, where she'll soon begin as a Massage Therapist. While she doesn't see herself owning her own clinic in the future, she loves being able to help clients and work alongside other healthcare professionals to manage and recover from injuries. She says that the Massage Therapy program at Eastern College, while not easy, leads to a great career that is fulfilling and lets her make a positive impact on so many people.