What Does a Continuing Care Assistant Do?
March 25th, 2022
The Canadian aging population is on the rise. Canadians are now living longer lives than previous generations and by 2030, seniors are expected to make up 23% of the Canadian population. As the population experiences its greatest increase in the proportion of older citizens, the demand for care workers is also increasing.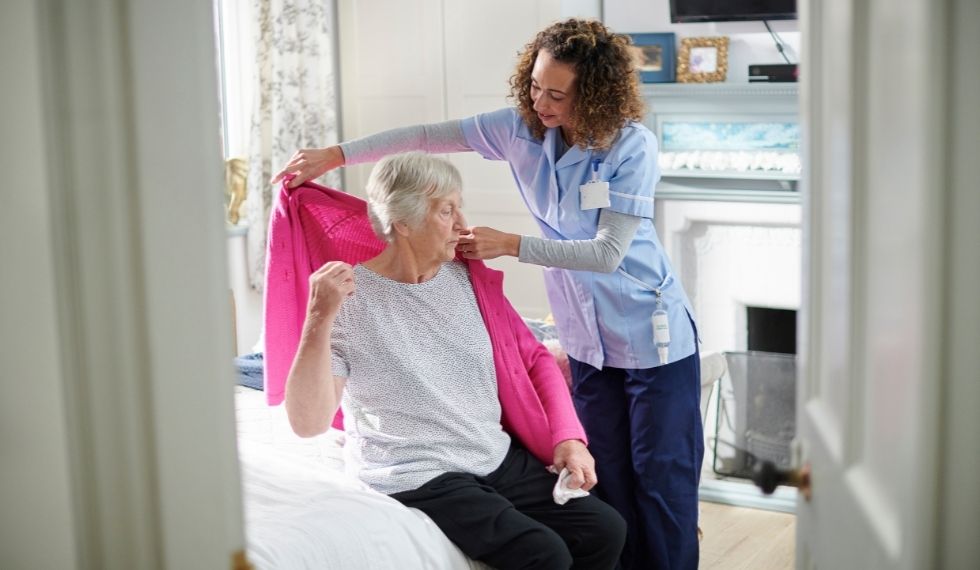 The continuing care assistant's role requires a lot of knowledge, which is why specialized training is a must.
Being a CCA is a fulfilling work — it's rewarding to hear clients and family members express gratitude and see smiles on their faces. CCAs spend a lot of time with patients, nurses, doctors, and even family members. This creates opportunities to build good relationships with clients. You will also learn valuable skills that you can use at any point in your life to care for a family member or loved one.
What is a Continuing Care Assistant (CCA)?
A Continuing Care Assistant (also known as a care worker, care assistant, or support worker) cares for people who are elderly, frail, mentally ill, injured, or disabled. They help with daily tasks that clients can no longer perform independently. Continuing Care Assistants can work in a client's home or in a care facility. In Nova Scotia, a Continuing Care Assistant (CCA) qualification is required to work as a care assistant in most healthcare environments.
In this article, we will review the responsibilities of a continuing care assistant, the skills required for the job, and why you should consider it as a career.
Job Responsibilities of a Continuing Care Assistant
Continuing care assistants deliver short or extended periods of assistance to clients in various care settings such as nursing homes, long-term care homes, retirement homes, client homes, and hospitals. The duties are wide-ranging and include making clients feel safe and comfortable. The role may require you to have a flexible work schedule that includes working days, nights, weekends, and holidays as well as commuting to and from clients' homes.
Roles include but are not limited to:
Helping clients with personal hygiene such as bathing, washing, dressing, grooming etc.
Assisting with basic day-to-day tasks such as grocery shopping, picking up prescriptions, paying bills, etc.
Performing light housekeeping duties such as cleaning and tidying the client's room or house, changing sheets, and doing laundry
Helping clients with their medication and ensuring they take it as per instructions
Planning and preparing meals according to specific dietary requirements
Providing companionship and emotional support to clients by spending time with them
Escorting clients to appointments and social outings
Helping and supervising clients with performing prescribed exercises
Transferring and moving clients in a wheelchair or stretcher
Turning, lifting, and positioning clients that require mobility assistance
Assisting clients during mealtime
Assisting with the planning and implementation of leisure activities
Reporting and documenting client concerns, incidents, and progress notes
Administering first aid in emergency situations
Taking clients' temperature, blood pressure, and pulse
CCAs work with clients of different ages and backgrounds who are often struggling both emotionally and physically. Having strong compassion in this role is at times what's needed the most. Taking a moment to understand the client's feelings and offering words of encouragement and support can go a long way. CCAs will find it easier and safer to do their job if they are physically fit. The nature of the job is physically demanding including lifting, transferring, bending, pushing wheelchairs, and moving clients that have mobility issues.
Continuing Care Assistant Salary
How much you make as a continuing care assistant is dependent on the type of facility you are working for and your level of experience.
Canadian continuing care assistants usually earn anywhere between $20 and $25 according to Job Bank. In Nova Scotia, the median and high wage is $18 to $20.35/hour.
How to Become a Continuing Care Assistant
The demand for continuing care assistants is high in Canada. It's a stable career choice with the opportunity to move between jobs and provinces as this sector is always in the need of qualified people. If you enjoy caring for others, this may be the career for you. To start a career in this dynamic healthcare field, your first step is to enroll in a Continuing Care Assistant course. A CCA program includes both theory and practice. You will learn in a classroom, lab, and through placements with real clients. You will also gain certifications in LEAP Long-Term Pallium Canada, First Aid/CPR Level C Training, Alzheimer Disease and other Dementia Care Course, and WHMIS Awareness.
Once you complete your qualification and other requirements, the next step is drafting a cover letter for continuing care assistant roles. Attaching this alongside your resume will help you stand out and also showcase your communication skills.
Are you ready to make a difference in people's lives? Learn more about our Continuing Care Assistant (CCA) program in Halifax.