News
Government of New Brunswick Offers Free Tuition for Personal Support Worker and Human Services Sector
August 12th, 2021 / By Eastern College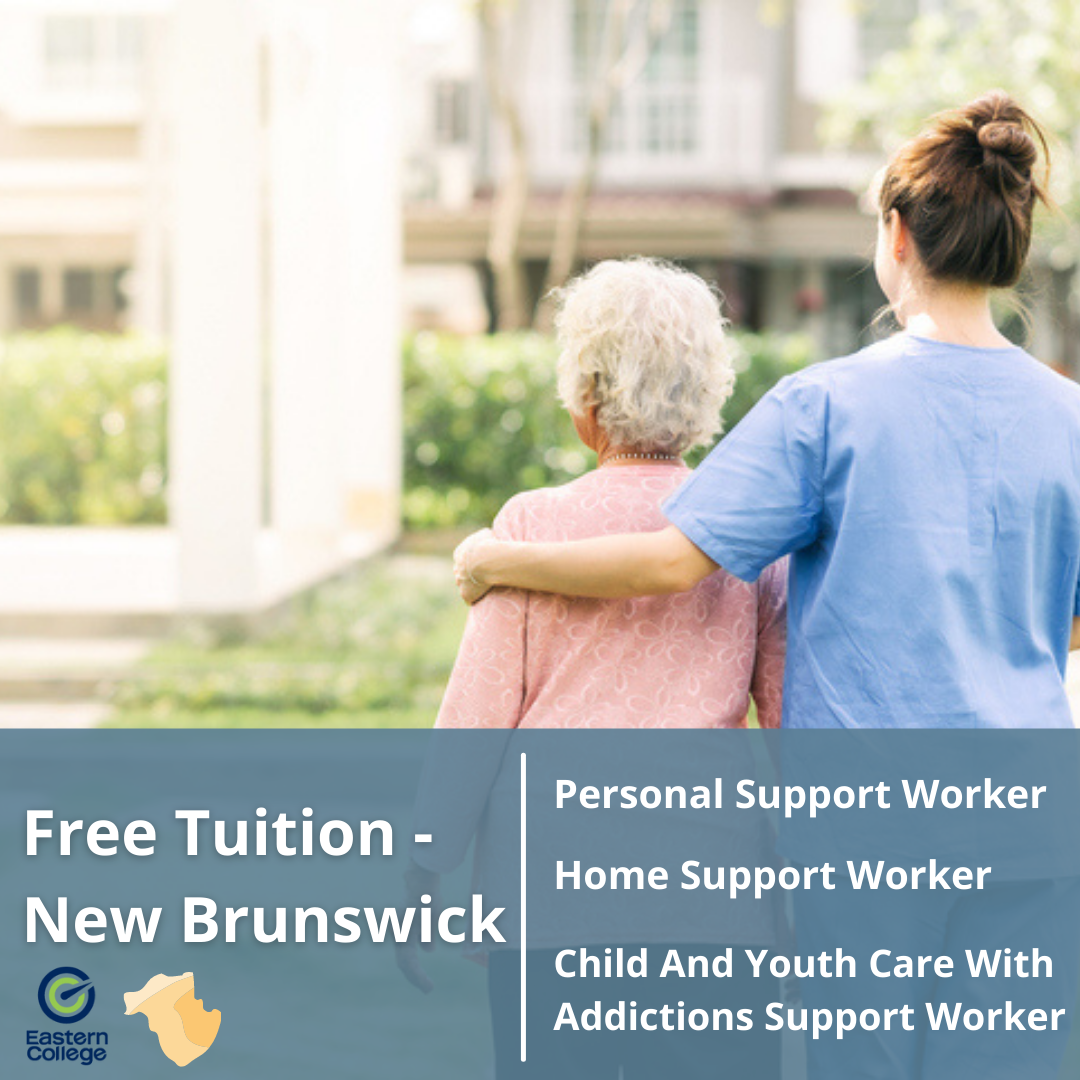 Fredericton, NB – New Brunswick residents can now receive free tuition towards human services programs that include Personal Support Worker (PSW), Home Support Worker (HSW), and Child and Youth Care with Addictions Support Worker.
As the demand for personal caregivers continues to rise due to factors such as the aging of the Canadian population and the effects of the COVID-19 pandemic, the New Brunswick Department of Post-Secondary Education, Training, and Labour has implemented new opportunities for students to train for programs in this high demand sector. Through this initiative, qualifying New Brunswick residents can now have the full cost of their tuition covered for select programs, including Personal Support Worker, Home Support Worker, and Child and Youth Care with Addictions Support Worker at Eastern College.
"The need for client-centered care is greater than ever," says Stuart Bentley, President of Eastern College. "We are excited about the government support for this sector and our ability to allow our students to take advantage of free tuition being offered for 3 of our key healthcare programs. Our programs are taught by instructors who have real-world experience in this field and they include internships ranging from 3 to 9 weeks, depending on the program."
Personal Support Workers or PSWs work under the supervision of medical professionals, their duties include working directly with patients to implement their health care plan, administering medication, aiding with day-to-day care such as hygiene and transportation, and monitoring and communicating the patient's condition. Child and Youth Care Workers (CYCWs) work alongside children, youth, and their families, helping them to overcome their everyday difficulties and promote healthy behaviours. In addition, CYCWs can also work with clients who have developmental and functional issues, who are in rehabilitation programs, and other instances where they may require support.
Learn more about this free tuition in New Brunswick opportunity and Eastern College's qualifying programs here: https://www.easterncollege.ca/free-tuition-nb
About Eastern College
Eastern College has provided training in a modular approach to best prepare students for the job market. Since its establishment in 1983, Eastern has helped fast-track over 30,000 students to job readiness through its programs and courses. Eastern has campuses in Fredericton, Saint John, Moncton, and Halifax. Eastern offers programs in Business, Technology, Healthcare, Law, Supply Chain, and Art & Design. More information about Eastern may be found at www.easterncollege.ca.